Companhias aéreas da Rússia
Veja nesta página os melhores destinos para a sua próxima viagem de avião. São dicas de passagens aéreas para viajar melhor e mais barato.
Quer comprar passagem de avião de avião para a Rússia, mas não sabe aonde comprar na Internet? O site
Que Tal Viajar
oferece para você informações das companhias aéreas da Rússia para a melhor compra de passagem aérea. São empresas aéreas de toda a Rússia.

Companhias Aéreas da Rússia
• 2nd Arkhangelsk United Aviation Division • 2nd Moscow Airclub • 2nd Sverdlovsk Air Enterprise • 223rd Flight Unit • 224th Flight Unit • Abakan-Avia • Adygeya Airlines • Aero-Kamov • Aero-Miks • Aero-Tranzit • Aero Rent • AeroCab • Aerocity • Aeroflot-Cargo • Aeroflot-Don • Aeroflot-Nord • Aeroflot-Plus • Aeroflot - Russian Airlines • AeroGeo • Aerokuzbass • Aerolimousine • Aeroservice • AgroService • Air Bashkortostan • AirBridgeCargo Airlines • Air Management Group • Airlines 400 • Airport Bratsk • Airstars • Airtaxi-Service • Airus General Purpose Aviation Club • AIST-M Airclub • Aitax-Avia • Alania Airlines • Alliance-Avia • Alrosa Mirny Air Enterprise • Alrosa-Avia • Altai Airlines • Angara Airlines • Annushka • Argo • Artel Staratelei "Amur" Airlines • Artel Staratelei Chukotka • Atlant-Soyuz Airlines • ATRAN • Avantage • Aviaaton • Aviacon Zitotrans • Aviaenergo • Aviakhim • Aviakrilo-SH • Avial NV • Avialift Vladivostok • Aviapanh • Aviaprad • Aviaservice • Aviashelf • Aviaspectr • Aviast Air • Aviastar-TU • Aviatest • Aviator • Avion • Avion SH • Baikonur • Baltic Airlines • Barkol Airlines • Berkut Air Technical Sports Club • Brig-T-Samara • Bugulma Air Enterprise • Buryat Airlines • Business Aero • Bylina • CBOSS-Avia • Central Base for Aerial Forest Protection • Centre of Applied Geodynamica • Centre-Avia • Centre-South • Centremontazhservice • Chaika Air Club • ChukotAVIA • Condor-M • Continent Airlines • Continental Airways • Dagestan Airlines • Dalavia • Dalnecherensk Avia • Dauria • Delta K • Domodedovo Airlines • Efirnoye • Elbrus-Avia • ESTAR Air • Flight Inspections and Systems • Fobos • Fotiev S.A. • Gazpromavia • Gorobets V.V. • Gromov Air • GSGA AON Air Company • Helix • Ikar • Ilin Air Company[1] • Interavia Airlines • IrAir • IrkutskAvia • Izhavia • Jet Air Group • Jet-2000 • Kaluzhsky AUC • Kamchatka Airlines • KAPO Avia • Katekavia • Kavminvodyavia • Kazan Air Enterprise • KD Avia • Khabarovsk Airlines • Kirensk Air Enterprise • Kirov Air Enterprise • Kirov Horse Stud • Kogalymavia • Kolibri • Komiaviatrans • Komsomolsk-on-Amur Air Enterprise • Konvers Avia • Koryak Air Enterprise • Kosmos • Kostroma Air Enterprise • KrasAir • KrasAvia • Krasnoyarsk Air Base • Krylya • Kuban Airlines • Lukiaviatrans • Lukoil-Avia • MChS Rossii • Mercury Air Centre • Meridian • Military Transport Aviation • MIR Scientific Industrial Enterprise • Miracle7 • Monolitstroy • Mordovia Airlines • Moscow Aircraft Overhaul Plant • Moscow Aviation Centre • MTA Company • Murmansk Air Company • Myachkov Air Services • Nadymspetsavia • Naryan-Mar United Aviation Squadron • Nefteyugansk United Airline Transport Company • Nevsky Aeroclub • Nizhneudinsk Air Enterprise • Nizhnevartovskavia • Nizhniy Novgorod Aviation Plant "Sokol" • Nord-Avia • Northwest Corporate Helicopters • Novosibirsk Air Enterprise • Novosibirsk Aircraft Repair Plant • Novosibirsk Aviation Production Association • Novy Urengoy United Air Squadron • NPO Saturn • OMK-Stal • Omskavia • Orel-Agriculturalavia • Orenburg Airlines • Orion-X • Panh • Perm Airlines • Petroff Air • Petropavlovsk-Kamchatsky Air Enterprise • Polar Airlines • Polet Airlines • Polet Airlines-AON • Polyashov Y.A. • Premier Avia • Privolzhsky Regional Air Company • Promavia • Pskovavia • Region-Avia Airlines • Rosneft-Baltika • Rossiya • Rostvertol-Avia • RusAir • Rusich-L • RusJet • RusLine • Russian Helicopter Systems • Russian Sky Airlines • Ruza Aviation Centre • Ryazanaviatrans • S7 Airlines • S-Air • Sakharov A.N. • Samara Airlines • Saratov Airlines • SAT Airlines • Severstal Air Company • Shar Ink • SibAviaTrade • Sibaviatrans • Sibaviatrans-AON • Sibia • Simargl Air Company • Sirius-Aero • Skol Airlines • Sky Express • Skytest • Skyvision • Smolenskaerotrans • Sokol Airlines • South-Avia • South-Line • Spark+ • Spectransavia • Taganrog Scientific and Technical Complex • Taimyr Air Company • Tambov-Avia • Tatarstan Airlines • Teaching and Technical Centre • TESIS Aviation Enterprise • Tomsk Avia • Transaero Airlines • Transavia-Guarantee • TsSKB Progress Air Company • Tulpar Air • Turukhan • Tuva Airlines • Tyumen Research and Production Centre • Tyumenspetsavia • Ufa Airlines • Ulyanovsk Higher Civil Aviation School • Ural Airlines • Uralspetsavia • Uraiavia • UTair Aviation • UTair Express • VASO-AON • Vertical-T[2] • VIM Airlines • Viraj • Vladivostok Air • Volga-Aero • Volga-Aviaexpress • Volga-Dnepr • Vologda Aviation Enterprise • Vostok Airlines • Vyborg • Vzlet • Way to the Sky • West Line Air Company • Wings of Samotlor • Wings Union of Aviators • Yak Service • Yakutia Airlines • Yamal Airlines • Yugagresource • Yugana • Zapolyariye • Zonalnoye Air Enterprise
Companhas aéreas inativas da Rússia
• Aerokuzbass (1993-2003) • AeroVolga (1993-99) • AJT Air International (1992-2003) • AKO-Kamchatka JSC Aviation • ALAK (airline) (1991-99) • Arkhangelsk Airlines (1963-2004) • Astrakhan Airlines • Atruvera Aviation • Aviakultura (1922-22) • Aviamost (1994-2001) • Baikal Airlines (-1998) • BAL Bashkirian Airlines (-2007) • Belgorod Air Enterprise • Bravia (Bryansk Air Enterprise) • Chelyabinsk Airlines (2004) • Chitaavia (1991-2004) • Dalstroi Aviation (1934-55) • Deruluft (1921-37) • Dobrolet (1923-30) • Eurasia (1997-2003) • Flight (-2003) • Hamiata • Ilavia Airline • Junkers Luftverkehr Russia (1923-24) • Khantyavia • Komiavia • Komiinteravia (1996-2006) • Korsar (1991-99) • Mavial Magadan Airlines (-2006) • Murmansk Airlines (-2001) • Orient Avia (1994-97) • Polyarnaya Aviatsiya (1932-60) • Pulkovo Aviation Enterprise (2006) • RDS Avia (1993-94) • Remex (1997-2001) • Russ (1999-2001) • Sakha Avia (1993-2003) • Siblyot • Sochi Airlines • Tatneftaero (1997-2001) • Transavaitsiya (1930-32) • Transeuropean Airlines • Tretyakovo (1994-2003) • Tyumen Airlines (1992-2003) • Vnukovo Airlines (1991-2003) • Yakutsk Airlines (1999-2003)
Companhas aéreas futuras da Rússia
-
•
Companhias Aéreas da África
•
Companhias Aéreas da América Central
•
Companhias Aéreas da América do Norte
•
Companhias Aéreas da América do Sul
•
Companhias Aéreas da Ásia
•
Companhias Aéreas da Europa
•
Companhias Aéreas da Oceania
Ficha da Rússia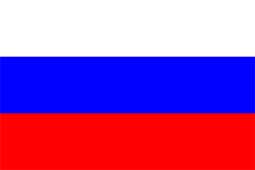 Bandeira da Rússiae Brasão da Rússia
Nome: Rossiyskaya Federatsiya - Federação da Rússia
Origem do nome:
Continente - Europa/Ásia
Lema -
Línguas oficiais - russo e outras 27 línguas co-oficiais regionais
Capital - Moscou (Moscovo)
Cidade mais populosa - Moscou (Moscovo)
Governo - República Federal
Independência da URSS - 12 de Junho de 1990
Área - 17.075.200 km²
População - 141.377.752 habitantes (2007)
Densidade - 8,3 hab./km²
PIB (PPC) - US$ 2,076 trilhões - 2006 (8º)
PIB per capita - US$ 14.600 (62º)
IDH (2004) - 0,802 (67º) - alto
Espectativa de vida -
Mortalidade infantil -
Moeda - Rublo (RUB)
Fuso horário - UTC+2 a +12
Clima - continental e ártico
Comidas típicas da Rússia -
Código Internet - .ru
Código telefônico - +7
Site oficial da Rússia - www.gov.ru
Hino nacional da Rússia - Hino Nacional da Federação da Rússia
Escute o
Hino Nacional da Rússia em Mp3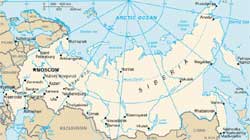 Mapa da Rússia
Saiba mais
Voos Comerciais Mais Longos do Mundo
Conheça quais são os voos comerciais mais longos do mundo. Em décimo lugar nesta lista está o voo entre Dallas e Hong Kong. Este voo dos Estados Unidos para a famosa região administrativa especial da China é feito num Boeing 777-300ER e percorre mais de 13 mil quilômetros. Confira os outros itens da lista do Top10 dos voos comerciais mais longos do mundo. Veja o vídeo e inscreva-se no nosso canal.